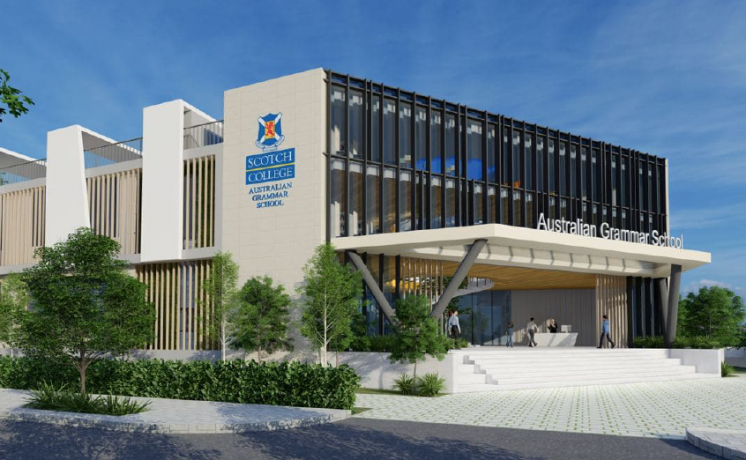 Scotch College – A prestigious private school system with more than 100 years of establishment and development in Australia coming soon to Vietnam, starting with the launch of Scotch AGS. The teaching and learning program at Scotch College AGS, throughout grades 1-12, is standardized based on the Australian National Curriculum (ACARA). At the High School level, after completing the program, students will be awarded the Australian Baccalaureate – SACE, which is internationally valid.
With the orientation of challenging each student to become a global citizen, possessing leadership capabilities and lifelong learning capabilities, Scotch AGS focuses on maximizing and comprehensively exploiting the academic, cultural, intellectual, music and sports potentials.
Students will thrive in an international environment and are always taken care of their mental health, encouraged to study and raise awareness of community values. Scotch AGS equips students with self-learning and prepares them for continuing success while studying at top universities around the world.
In 2022, Scotch AGS enrolls students from grades 6 through 10.
Admission requirements
Consider the average score of the previous school year/semester and the student's English capability.
Parents see details on how to apply for admission.
Tuition fee and scholarships
Scotch AGS offers parents and students the opportunity to experience the Australian program with Vietnamese fees as below:
The official tuition fee (no scholarship) for the 6th to 11th grade programs ranges from: 375,360,000 – 476,680,000, excluding other fees. View detailed information on international school fees
Talented Scholarship: Up to 70% for students who are eligible for admission based on GPA of school years and English language requirements for 10th and 11th grade students. See more details about the scholarship and conditions for receiving international high school scholarships
EduFin financial solutions
Scotch AGS cooperates with partner EduFin to bring comprehensive educational financial solution packages, saving international school fees up to 100%, making it easier for parents to invest in their children's access to education. Get the top international education from Australia.
Campuses of Scotch College in Vietnam
Campus 1: 05 Truong Quoc Dung, Ward 8, Phu Nhuan District
Campus 2: 300 Hoa Binh, Hiep Tan Ward, Tan Phu District
Parents can find out more details by participating in events about international study programs or talking directly with the admissions counselor.
Admissions Office
Address: 41-43 Vo Van Tan, Vo Thi Sau Ward, District 03, Ho Chi Minh City
Tel: (028) 398.98.999
Email: info@scotch-ags.edu.vn